Clergy, Staff and Wardens
The Reverend Canon Michael Burgess
Interim Priest-in-Charge
A former professional actor, The Reverend Canon Michael Burgess was trained at the College of the Resurrection, Mirfield, in West Yorkshire. Ordained in Chelmsford Cathedral in 1976, he served two different parishes in England before coming to Toronto in 1982 as Chaplain and Head of Drama at Royal St. George's College. He became Rector of the Church of the Epiphany and St. Mark, Parkdale, in 1989, moving to the Church of the Transfiguration fifteen years later, and becoming Regional Dean of the Eglinton Deanery until his retirement in 2010. For five years, he was an Honorary Assistant at St. John's, Norway, and Interim Priest-in-Charge for a further year. After four years as an Honorary Assistant at St. Timothy's, he was appointed Interim Priest-in-Charge from March 1, 2022, and feels blessed to be here.
Michael is a Gilbert and Sullivan enthusiast and once worked for the D'Oyly Carte Opera Company in their offices at Savoy Hill. He was President of the Toronto Branch of the G & S Society for 12 years. After retirement, he became Artistic Director of Stage Centre Productions, one of Toronto's most highly regarded community theatre groups, and served for seven seasons.
Bishop Ann Tottenham
Honorary Assistant
Bishop Ann is a Retired Area Bishop, Diocese of Toronto
---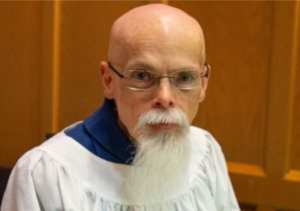 Ed Connell
Music Director
Edward Connell is a life-long professional musician with an impressive rainbow of skills and talents. He began training as a concert pianist in his native Edmonton, eventually accumulating a stack of degrees, diplomas and medals. He then embarked on a career as a theatre musician, and along the way, wrote plays and musicals (published and produced), acted, and composed incidental scores to everything from Shakespeare to Torch Song Trilogy.
Simultaneously, he took up a secondary career as an organist, choir director and singer, mastering those skills, and earning more diplomas and prizes, including the coveted FRCCO and the Healey Willan Prize. In 2000, he moved to Toronto to take up the musical leadership of Timothy Eaton Memorial Church.
In 2005, he was appointed pianist to the National Ballet of Canada. He has been lauded for several high-profile performances. These include Chopin's 24 Preludes at the 2010 Vancouver Olympics and across Canada, and piano etudes by Philip Glass in a new ballet by Guillaume Côté, performed here, in Moscow and in St. Petersburg. Most recently, he was on stage (and in costume) playing and conducting the orchestra in the ragtime ballet "Elite Syncopations". He is currently deeply involved in helping to set the new Karen Kain production of "Swan Lake".
Since 2002, he has been the artistic director of Forte-Toronto Gay Men's Chorus. Over 20 years, he has built the chorus into one of Canada's finest men's choirs, and is particularly admired for the 200+ custom arrangements that he has made for the group. He continues as a church musician, and for more than a decade has been the music director of St. Timothy's Anglican, where his skills led that church to install a new and magnificent organ that he designed.
Elaine Vanderwerf
Youth Minister
Elaine joined St. Timothy in early 2019 in a part-time capacity. She has served in many different settings always living out her passion to help children and young people grow in their faith, develop a life of worship, and live in the deep and abiding love of Jesus.
If Elaine is not at St. Timothy's – she is probably at the other Anglican St. Timothy's (Agincourt) as she shares her gifts between the two communities.
Elaine enjoys being creative; she plays several instruments, writes, paints, draws and makes jewellery. She has a sizable library of children's books. She loves video chats with her nieces and nephews in Scotland and cuddles with her beloved dog and cat.
---
Support Staff
Ashani Weerasinghe
Parish Administrator
If you need information about St Timothy's, Ashani who will get you the answers! Working Monday – Friday both remotely and at the church, Ashani can be contacted by phone and email. Over the summer Ashani generally works from the church office on Tuesdays and Fridays from 10 – 3, but best to check ahead of time if you are planning on dropping by.
Bio coming soon
Gildardo Blandon
Custodian
Bio coming soon
---
Wardens and Deputy Wardens
Janet Gordon, People's Warden; Carol Logan, Rector's Warden; Rob Hong, Deputy People's Warden, and Rosemary Hendra, Deputy Rector's Warden
Janet Gordon
People's Warden
Janet has been a parishioner at Timothy's since about 1990. For most of that time she's belonged to the Outreach Committee, and to the Choir but has also served many other committees and capacities and as a Warden. Janet says 'St Tim's is my community and I treasure the opportunities I've had to make good friends while making soup, pancakes, cookies and baby sweaters, reading scripture, singing, editing Timprint, and arranging flowers. I know the wardens will have a great deal of support from the congregation as we navigate this year of transition.'
Carol Logan
Rector's Warden
Carol was at St Luke's Church for 39 years. It was a much smaller congregation and she feels very fortunate that she was involved in many activities there, including being a warden and assisting in worship. St. Luke's closed in 2019. Carol had been a member of St Tim's when she lived on Cranbrooke many years before moving to Mississauga. This is Carol's second term as warden at St Tim's and she is very pleased to be serving the parish in this capacity.
Rob Hong
Deputy People's Warden
Rob has been attending St Tim's since around 2013, and has served on the Finance Committee since around 2014. He enjoys the sense of community and family and looks forward each year to Breakaway and Moorelands, as well as regular coffee hours and Men's Breakfasts. He married his long-time girlfriend Andreea Lupascu in a very small service at St Tim's in July 2021. He is honoured to have the opportunity to serve the Church in this way. Outside of work, he runs a consulting business with Andreea, and also enjoys squash at the Cricket Club.
Rosemary Hendra
Deputy Rector's Warden
St Timothy's has been part of Rosemary's family's life for about 30 years. Her husband Gord has been in the choir for many years and their three sons grew up in St Timothy's. Rosemary says 'Each of our lives have been enriched with the many things St Timothy's has offered. I find that attending Sunday services is like a reset button on my life, refocusing my mind on what truly matters and what I should be doing. I hope to be able to serve St Timothy's well as we embark on this new stage of Covid living.'