Clergy & Staff
Eric 
Rector
Eric came to St. Timothy in 2016 after a varied ministry that included working for the General Synod of the Anglican Church of Canada and for the Anglican Communion. He taught for many years at the seminary level and was most recently the President of Atlantic School of Theology. While it was a privilege to prepare others for ministry nothing beats the real thing! He loves teaching, preaching and shaping the sort of creative worship that is responsive to the character of a particular congregation while calling each of us deeper into our understanding of and response to the love of God.
Eric has a passion for the environment and for good music of all sorts. When not working he loves to make music with friends, to observe the night sky, to attend concerts and to share great meals with his wife Janet. He and Janet enjoy spending time with their five wonderful adult children and their growing families.
Gerlyn 
Assistant Curate
Gerlyn moved to the suburbs of Mississauga at the age of 5 from Chennai, India. At the age of fourteen, she moved back to India where after years of cultural shock in high school, she graduated with a degree in Social Work. She then joined the ecumenical movement and worked with the National Council of Churches, the Council of World Mission and the youth department of the World Council of Churches.
Soon after, she began her M.Div at Columbia Theological Seminary. Here she sensed her call to parish ministry. After graduating in 2018, she worked as a chaplain at the Children's Hospital in Atlanta and in other local parishes.
Gerlyn enjoys running, travelling, sculpting and most recently playing the ukulele. She was recently engaged to her partner, Jesse, and they are planning to get married in the fall of 2020 (fingers crossed).
Elaine 
Youth Minister
Elaine joined St. Timothy in early 2019 in a part-time capacity.   She has served in many different settings always living out her passion to help children and young people grow in their faith, develop a life of worship, and live in the deep and abiding love of Jesus.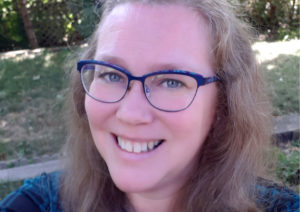 If Elaine is not at St. Timothy's – she is probably at the other Anglican St. Timothy's (Agincourt) as she shares her gifts between the two communities.
Elaine enjoys being creative; she plays several instruments, writes, paints, draws and makes jewellery.  She has a sizable library of children's books.  She loves video chats with her nieces and nephews in Scotland and cuddles with her beloved dog and cat.