The Reverend Dr Irina Dubinski
Priest-in-Charge
Personal website and blog: https://irinasart.ca/
Irina was ordained in the Anglican Diocese of Toronto in 2015, following the completion of her Master's of Divinity degree at Wycliffe College, and Spiritual Direction Diploma at Regis College. Prior to this, she had earned a PhD in Speech-Language Pathology and BA in Linguistics, and pursued an academic path. She has served in churches of various sizes in Toronto, as well as as a chaplain in school and long-term care settings. Today, her ministry focuses on parish life combined with occasional teaching at Wycliffe. She also has a strong interest in end-of life care, and new clergy formation. Her personal spirituality reflects a combination of the Orthodox heritage of her country of birth, early faith experiences in the Evangelical church, transition to Anglicanism for theological and liturgical reasons, and formal training in Ignatian (Jesuit) spiritual direction. The practices she borrowed from each tradition together facilitate her awareness of God's presence and activity in the world, which she is delighted to share in her parish work and spiritual direction practice. Irina is also an amateur artist, belonging of the Toronto Heliconian Club and regularly showing her work. If she isn't at the church or at her easel, she could also be driving the kids somewhere, running/biking/swimming in preparation for another triathlon race, baking, reading, or watering her garden or "indoor jungle".
---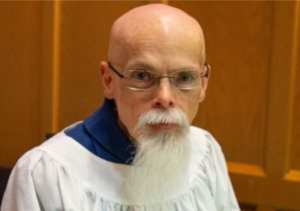 Ed Connell
Music Director
Edward Connell is a life-long professional musician with an impressive rainbow of skills and talents. He began training as a concert pianist in his native Edmonton, eventually accumulating a stack of degrees, diplomas and medals. He then embarked on a career as a theatre musician, and along the way, wrote plays and musicals (published and produced), acted, and composed incidental scores to everything from Shakespeare to Torch Song Trilogy.
Simultaneously, he took up a secondary career as an organist, choir director and singer, mastering those skills, and earning more diplomas and prizes, including the coveted FRCCO and the Healey Willan Prize. In 2000, he moved to Toronto to take up the musical leadership of Timothy Eaton Memorial Church.
In 2005, he was appointed pianist to the National Ballet of Canada. He has been lauded for several high-profile performances. These include Chopin's 24 Preludes at the 2010 Vancouver Olympics and across Canada, and piano etudes by Philip Glass in a new ballet by Guillaume Côté, performed here, in Moscow and in St. Petersburg. Most recently, he was on stage (and in costume) playing and conducting the orchestra in the ragtime ballet "Elite Syncopations". He is currently deeply involved in helping to set the new Karen Kain production of "Swan Lake".
Since 2002, he has been the artistic director of Forte-Toronto Gay Men's Chorus. Over 20 years, he has built the chorus into one of Canada's finest men's choirs, and is particularly admired for the 200+ custom arrangements that he has made for the group. He continues as a church musician, and for more than a decade has been the music director of St. Timothy's Anglican, where his skills led that church to install a new and magnificent organ that he designed.
---
Support Staff
Ashani Weerasinghe
Parish Administrator
If you need information about St Timothy's, it is Ashani who will get you the answers! Working Monday – Friday both remotely and at the church, Ashani can be contacted by phone and email. Over the summer Ashani generally works from the church office on Tuesdays and Thursdays from 10 – 3, but best to check ahead of time if you are planning on dropping by.
Gildardo Blandon
Custodian
Bio coming soon
---
Wardens and Deputy Wardens
Rob Hong, People's Warden; Rosemary Hendra, Rector's Warden; Jan Fraser, Deputy People's Warden and Michael Clarke, Deputy Rector's Warden
Rob Hong
People's Warden
Rob has been attending St Tim's since around 2013, and has served on the Finance Committee since around 2014. He enjoys the sense of community and family and looks forward each year to Breakaway and Moorelands, as well as regular coffee hours and Men's Breakfasts. He married his long-time girlfriend Andreea Lupascu in a very small service at St Tim's in July 2021. He is honoured to have the opportunity to serve the Church in this way. Outside of work, he runs a consulting business with Andreea, and also enjoys squash at the Cricket Club.
Rosemary Hendra
Rector's Warden
St Timothy's has been part of Rosemary's family's life for about 30 years. Her husband Gord has been in the choir for many years and their three sons grew up attending St Timothy's. Rosemary says 'Each of our lives have been enriched with the many things St Timothy's has offered. I hope to be able to serve St Timothy's well.'
Jan Fraser
Deputy People's Warden
Janet has been part of St Timothy's since 1962 when her parents moved back to Toronto from Calgary, Alberta. "In those days, when you moved, your Parish Priest gave you a letter of introduction for your new Parish Priest. St Tim's has been an integral part of my life since childhood – like an extension of my family and family home. Like a family, they have been there to share life's highs and lows with support and friendship". Janet is currently Chair of the St Andrew's Group as well as a member of the Choir, Christmas Kitchen baking group, Archives and Free Little Pantry.
Michael Clarke
Deputy Rector's Warden
Michael and his wife, Marilyn, have been members of St. Timothy's since 2011 when they returned to Canada from overseas. Michael was actively involved in our Refugee Sponsorship, serving as chair of the committee and most recently, has been a member of our Advisory Board and performs the Screening function for the parish. He has been a volunteer for many of the events held in the church over the years and continues to do so. Michael and Marilyn enjoy not only the wonderful music at St. Timothy's but the welcoming community within the parish.