Caring for Others
Outreach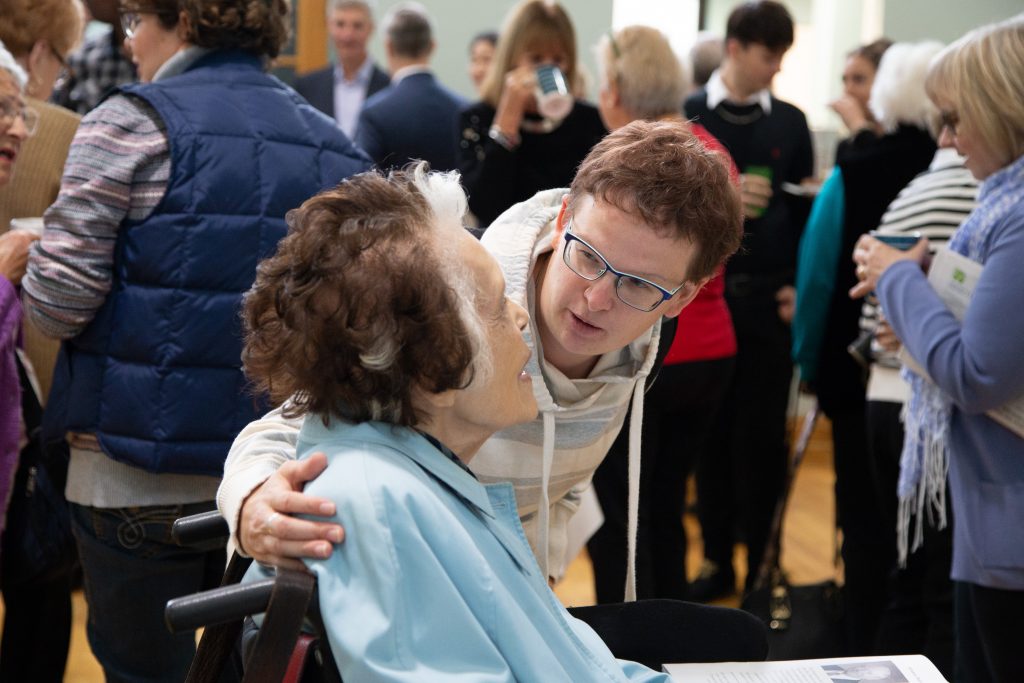 Following Jesus' call to us, outreach has been an important element at St. Timothy's since 1933 when the first church service was held in what is now our gymnasium. The ministry of outreach includes the diverse gifts of many people. There are those who think theologically about issues in our communities and world, those who organize and plan and those who show up and offer hands on time and skill.
Prior to COVID, the church held a monthly community lunch and prepared and served a monthly meal for the residents of St. George House, a high needs boarding house in Toronto. For many years, parishioners enjoyed a fall weekend at Moorelands Camp, building and helping with an end of season clean up. These activities are on hold due to COVID.
In 2021, we participated in Moorelands Christmas Sharing, adopting two families and providing grocery gift cards and Christmas gifts for six children in two families. We also gave gift cards at Christmas to the twenty-six residents of St. George House.
In 2021, a one time COVID Emergency Grant was approved at Vestry. The outreach committee researched and recommended to the wardens, the amount that five organizations would receive from the $50,000.00 grant.
Funds allocated to the outreach budget provide financial donations in support of several excellent community organizations. During COVID, our donations have been directed to organizations providing food to those less fortunate than ourselves, including Able Kids Rehab in Malawi and closer to home, Flemingdon Park Ministry, Moorelands Kids, North York Harvest Food Bank and The STOP Community Food Centre. A parish survey confirmed hunger and houselessness as two top priorities.
Our most recent project has been the Little Free Pantry. Envisioned by the outreach committee, built by a congregation member and painted by the youth group, the Little free Pantry sits at the entrance of the parish doors. This has served as an opportunity to meaningfully and safely engage with those in our community and neighbourhood in providing nutritious, hygienic and accessible food. Best news is that anonymous neighbours regularly contribute to the stock in the pantry.
The Pantry's vision: GIVE what you can and TAKE what you need is really working.
The Old Orchard Blossoms
The Old Orchard Blossoms is an outreach group of St Timothy's Church with approximately 15 active members supporting the work of the Stephen Lewis Foundation and its Grandmothers to Grandmothers Campaign. Founded in 2006, the women of the Old Orchard Blossoms were inspired by the amazing African grandmothers supporting their grandchildren and other orphans created by the HIV and AIDS pandemic in sub-Saharan Africa. Their mandate is to raise awareness of the grandmothers' supportive role in the HIV and AIDS epidemic and to raise funds to assist grassroots projects run by and for African grandmothers. These amazing grandmothers are central to the life of their communities and to a whole generation of orphaned children.
Our members today include women from the church and the community. To date, the Blossoms have raised over $250,000 – our contribution to the $40 million raised for the Grandmothers Campaign by 240 grandmother groups in Canada. This money has been raised through a variety of projects including concerts, pub nights, wine tastings, sales of greeting cards, our fair-trade marketplace, and by participating in the annual national fundraising walk, "Stride to Turn the Tide". You can have a look at our website here: www.OldOrchardBlossoms.ca Interested in becoming an Old Orchard Blossom? We welcome new members – grandmothers and "grand-others" and new ideas. We meet once a month over Zoom and will return to monthly in person meetings in the church parlour as soon as we can. For more information on our group, send a message to OldOrchardBlossoms@gmail.com. We welcome you!
The Old Orchard Blossoms has a wonderful Mother's Day gift idea for you! Click here for more information.